Hotel Wi-Fi

Access to the Internet is not only the main competitive advantage of the hotel, but also a prerequisite. Internet access must be guaranteed in all places of general use of the hotel (reception, restaurant, bars, lounges, outdoor areas, etc.) and in the rooms.
The most popular in the hotel sector have won wireless Internet access networks based on Wi-Fi technology. According to the poll TripAdvisor hotel Wi-Fi is a critical factor in choosing a hotel for 85% of travelers, and demand will only grow in view of the increasing number of mobile devices.
Access to the Wi-Fi network can be arranged in the hotel for free or for a fixed fee according to the tariffs developed by the hotel owner.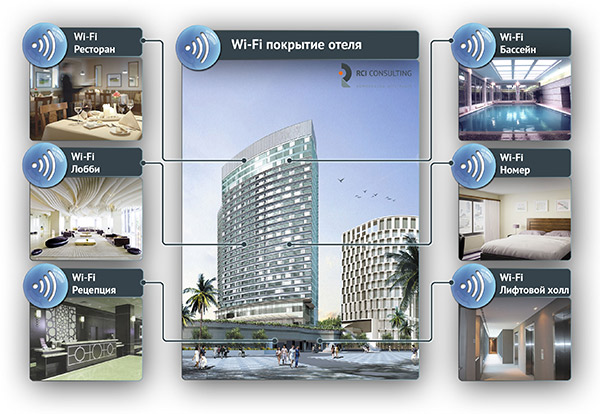 Leading companies-developers of Wi-Fi solutions for hotels:
Motorola
Ruckus
Hewlett-Packard
Cisco
Company Motorola Solutions is the world leader in the field of wireless communication systems, whether it be radio communication equipment, Wi-Fi networks (WLAN) systems or solutions for deploying wireless broadband access (BBA) networks.
The range of Wi-Fi access points from Motorola provides the opportunity to create the most flexible and cost-effective wireless network, and also allows you to design both small WLAN networks consisting of one or more access points, and large-scale WLAN networks consisting of multiple wireless network elements which are managed centrally with the Motorola RFS access point controller.
Motorola offers unique solutions designed specifically for hotels and hotels. They allow you to upgrade your existing wired network with maximum efficiency.
Motorola WiNG 5 – The best solution for hotels and hotels
The company's solution provides access to all the benefits of 802.11n technology. The distributed architecture provides QoS support, security and mobility of access points, which guarantees efficient routing and high reliability of the network. This means that the wireless controller is no longer a critical element, applications run without delays, and the video is transmitted without distortion. Given the wide range of access points and the flexibility of network configurations, you get a network of the required scale, while purchasing less equipment. Motorola offers an easy and cheap way to get high performance, speed, and also to form the client base of loyal guests.
Ruckus, established in 2004, is today one of the fastest growing companies in the wireless technology industry. Ruckus operates in the market for solutions for the mobile Internet infrastructure and wireless enterprise WLAN systems. The company is recognized as the first developer of adaptive Wi-Fi solutions for operators.
Ruckus ZoneFlex – One of the most popular Wi-Fi solutions for hotels
The Ruckus ZoneFlex technology is one of the most popular Wi-Fi systems for hotels, as it allows you to use the full range of radio channels, increase coverage and provide stable performance over long distances. This is achieved thanks to the patented adaptive antenna technology, which automatically generates directed Wi-Fi beams only where they are needed, creating a stronger signal level that can be directed around the obstacle or source of interference. The Ruckus ZoneFlex system is the only system that allows you to create efficient SmartMesh networks that have a high radio signal gain and intelligent channel selection for unprecedented coverage and productivity, which allows companies to reduce the cost of implementing such networks.
Personal Wi-Fi in every room
Ruckus Wireless creates a unique product – a network outlet with built-in WiFi access point ZoneFlex 7025. The ideal solution for hotels that do not have WiFi, and for objects under construction.
Expansion of the network without wires
Usually, all Wi-Fi access points are combined with a wired network that provides access to the Internet. However, not all hotels have a wired infrastructure. Sometimes its construction is impossible due to lack of technical capability (for example, in a historic building). In this case, with Ruckus ZoneFlex it is convenient to use Smart Mesh Networking technology. It allows you to enable the access point in the socket 220V and do nothing else. The access point itself will find "neighbors" with access to "wires" and connect to it with a radio channel.
HP (Hewlett-Packard) — American company, one of the largest technology companies in the world, specializing in the production of computers, computers, software, image printing devices. The company was founded in 1935.
HP Networking for Hospitality
HP's networking solution, combining wired and wireless services, without any additional payment, provides secure access to multimedia, applications and services (inventory accounting, wireless orders and room reservations) – anytime and anywhere . HP wireless solutions that provide the most bandwidth-intensive applications (multimedia and video applications), simplify network management tasks and offer high quality mobile communications.
Improving the quality of network services for guests
Access points HP 802.11n with three spatial streams, designed for indoor and outdoor installation, provide high throughput. Thanks to this, employees and hotel guests are provided with a quality of communication that is close to the quality of the wired lines: indoor, outdoor, in the courtyard of the hotel, by the pool or on the golf course.
The optimized architecture, supporting both centralized and distributed traffic management, provides maximum application flexibility and allows you to adapt QoS (Quality of Service) so that the applications of hotel visitors have an unquestionable priority.
In addition, the HP Identity Driven Manager (IDM) module provides a simple and effective way to increase control over network access and policies, allowing hotel visitors to use their own devices.
Privacy Protection
The HP wireless solution, which includes secure network access, audit records, inability to refuse authorship and reports, protects guest data and adheres to security rules.
A robust WLAN encryption and authentication system allows you to grant individual network services to each user individually, which ensures confidentiality in the transmission of guest data over the air. RF Manager, a means of detecting and preventing intrusion through a wireless network, protects the network from unauthorized access through access points of scammers, as well as from attacks by intruders.
Cisco Systems is a transnational high-tech company developing and selling a full range of network equipment, founded in the US in 1984. To date, Cisco Systems has offices in 70 countries around the world, and is the leader in the production of network equipment: routers, switches, concentrators, etc. More than 80% of the routers that make up the Internet are Cisco products.
CleanAir – the best wireless technology in hotels
Cisco CleanAir technology solves the problem of interference with the patented CleanAir ASIC integrated circuit, which is part of the access point and uses "smart" system-level functions to recognize, classify, locate and eliminate radio interference.
CleanAir – the only existing solution that completely solves the problem of interference when delivering information over wireless networks. CleanAir accurately identifies, classifies and localizes more than 20 unique sources of interference, including wireless phones, video cameras, microwave ovens and Bluetooth devices, all without compromising user traffic.
CleanAir has the following characteristics:
an intuitive Air Quality Index, which allows you to accurately estimate the amount of interference that affects any access point or geographic point;
possibility of self-recovery, automatic optimization of wireless network due to radio resources management and increase of wireless channel reliability without the intervention of IT professionals;
correlation of interference detected simultaneously by several access points, in order to avoid duplication of events created by a single source of interference;
the specialized integrated circuit CleanAir ASIC, which gives detailed information about the frequency spectrum without compromising the performance of access points (this is different from software solutions that use the computing resources of Wi-Fi chipsets).
CleanAir technology is able to shorten the diagnostic time from several hours to several minutes and in many cases solve the problem in an automatic mode. CleanAir features an integrated design, which can eliminate noise in 30 seconds.