Marriott launches vending machine with healthy food
As hotels cut back on room service, what's a traveler to do at meal time? Marriott has teamed up with Chicago-based Farmer's Fridge to launch one solution: a vending machine stocked with supremely healthy meal options like kale-and-quinoa salads and Greek yogurt-and-berry bowls.
The working prototype, located at Chicago Marriott O'Hare, is the brainchild of Anjana Kallarackal, a 21-year-old college student who dreamed up the idea after a trip through Europe. It's one of just 2,500 ideas that the hotel brand has received since launching the Marriott's Travel Brilliantly campaign and Katie Krum, the director of digital marketing for Marriott says more innovations are coming soon.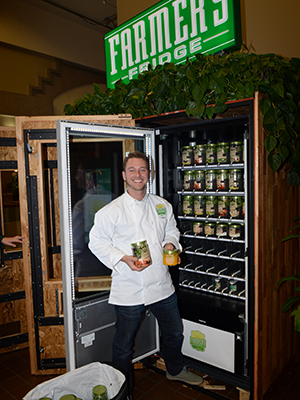 To help bring her vision to reality, Marriott partnered with the Farmer's Fridge, which has created a machine filled with 15 to 25 nutritionally balanced options. According to Marriott, meals include:
• The Detox Salad (also known as the Junk Food Eraser) made with organic Kale and Quinoa with fennel, fruits and beans served in white balsamic vinaigrette.
• Greek Yogurt and Berries (also known as Breakfast of the Gods) made with low-fat Greek Yogurt, berries and locally sourced honey.
• Lemon Pepper Chicken made with chicken breast from chickens that have been humanely raised without antibiotics, lemon juice, extra virgin olive oil, salt, pepper.
The food will be delivered daily, and prices will be $3 to $12. Krum told the plan is to test the kiosk for five months and to expand it to other locations if it's a success.
"Listening and responding to customer needs is a hallmark for Marriott Hotels," said Michael Dail, vice president, Marriott Hotels Marketing. "Coming soon, Marriott Hotels will launch even more co-created travel ideas submitted to TravelBrilliantly.com by guests."